Family offers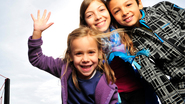 Fun for the grandchildren - The wise go to Bellwald
From June to July, you and your grandchildren can come to Bellwald and enjoy a great experience with your sweetheart. Grandchildren under 16 years share a room with their grandparents for no extra costs Chairlift is included at some hotels. Pick up at the cable car station at Bellwald is also included. 3 nights CHF 345 per person including half board *
Validity: 01 Jun 2013 - 31 Jul 2013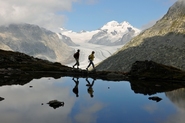 Hiking enthusiasts
Sun, mountains, soft meadows and plenty of ice. Discover the UNESCO World heritage Site Swiss Alps Jungfrau-Aletsch and its centerpiece the great Aletsch Glacier. And the best view of all is from the Eggishorn (2,926 m.a.s.l.). An unforgettable experience. Our offer includes: 7 nights in a holiday apartment for 2 adults and 2 children (6-16 years), incl. additional charges (final cleaning, electricity, laundry, laundry, etc.), incl. resort tax (2 adults / 2 children), 8 days free travel on the Fiescheralp, Bettmeralp, Riederalp cableways (incl. feeder cableways, free travel on the Matterhorn Gotthard route Mörel - Fiesch and discount off a paragliding flight. Price per holiday Apartment: CHF 837 *
Validity: 08 Jun 2013 - 31 Jul 2013
Aletsch Arena / Eggishorn Tourismus
,
Postfach
,
3984
Fiesch
Tel +41 (0)27 970 60 70
|
Fax +41 (0)27 970 60 71
www.fiesch.ch
|
info@fiesch.ch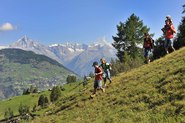 A week's hiking in Grächen
Our offer includes: 7 nights in a holiday apartment, 1 return trip up the Hannigalp with the Fairytale Gondola, guided Suonen hike, breakfast at the Hannighüsli, unlimited use of the Kneipp facilities, return trip on the Jungen-Bahn and trip up the Gornergrat (Zermatt). Price per person: CHF 340 in a holiday apartment *
Validity: 14 Apr 2013 - 06 Jul 2013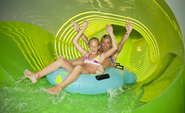 Family Taster Days
Our offer includes: 3 nights in a family-friendly hotel ** incl. breakfast, 1 x all-day admission to the Leukerbad Therme, 1 x return ride on either Torrent or Gemmi cableways. Price per person: Adult: CHF 276 Child 13-16: CHF 112 Child 9-12: CHF 97 Child 6-8: CHF 75 Child 3-5: CHF 45 Child 0-2: free *
Validity: 19 May 2013 - 10 Nov 2013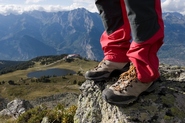 Open-air programme – scale the heights without effort
Don't miss out on our Open-Air Pass summer specials Our offer includes: This mountain railways pass, available for either 3 or 6 days, gives you effortless access to the tops of our mountains as well as numerous discounts on a wide range of sports, gastronomic and family offers. Purchase a "Family Pass" and we'll give your children aged up to 15 years a pass free of charge. Price per person for 7 nights: CHF 265 in a holiday apartment *
Validity: 29 Jun 2013 - 25 Aug 2013
*All prices are in Swiss Francs and correct at time of print. Prices shown in currencies other than Swiss Francs are guideline prices only and subject to exchange rate variations. All programmes and prices are subject to change without prior notice. All prices per person in a double room with double occupancy.